Schirin Partowi — Vocals, Concept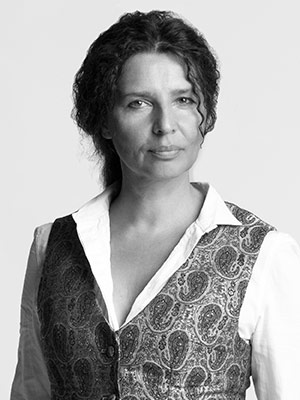 Schirin Partowi grew up in a liberal intercultural environment with a German mother and a Persian father. After studying classical singing and music theatre at the Folkwang University in Essen, the contralto pursued a classical concert career. As a soloist, this took her to many venues across Europe and the Middle East, particularly influenced by the music of Bach in its perfection.
Later, Schirin Partowi's interest in the music of her Persian ancestors awakened and – triggered by the increase of politically motivated religious crises – she began to study Jewish and Islamic music and developed her first intercultural concert and performance programmes. She also took on the singing part for the soundtrack of the movie THE PHYSICIAN.
As artistic director, Schirin Partowi has developed the musical and thematic concept for AVRAM. For their second and third programme, she has expanded the repertoire with several of her own pieces.
For her as a singer, the expressive and unmistakable sound language of AVRAM is an active statement against the personal and political despondency in the face of the tense world situation.
The message is this: Peace is a skill that can be learned. In concerts, this happens through the encounter of sound cultures. In music, a dialogue beyond the linguistic dimension develops and is directly transferred to the listeners. "To sing the song of a stranger is to come as close to him as one's own breath."
Schirin Partowi | www.schirinpartowi.de